Gerald Bibby October 1930 - 9th June 2017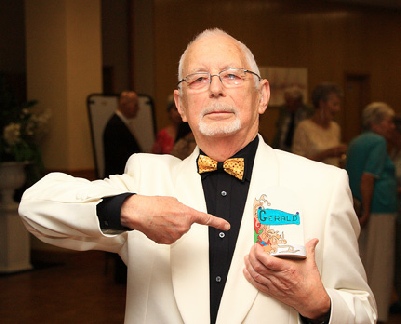 We learnt today that one of our members, Gerald, had sadly passed away in hospital in the early hours of this morning after a long battle with cancer. Gerald was a very colourful character loved through the sequence dancing community of the area. Despite his long illness he was always very cheerful.
He and his wife Joan in their time were Deputies at several clubs including Fairlands, Normandy, Cove and Summertime and also were the Leaders at Normandy until ill health intervened. They helped run Cove when the club was leaderless. He was a very kind and generous man with a great sense of humour. His microphone skills were legendary. I remember the time he was MC of the Normandy Ball and at the start of the evening climbed on a step ladder in the centre of the floor and conducted David Last in a Glen Miller melody.
He and Joan took us under their wing when we started dancing 11 years ago and encouraged and helped us through all our training for which we will always be grateful. They were only too happy to partner beginners to encourage them with their dancing.
Our deepest sympathies go to is wife Joan and family. Gerald will leave a big hole in the sequence dancing community and will be greatly missed.
Nigel
Ruth Chivers June 2016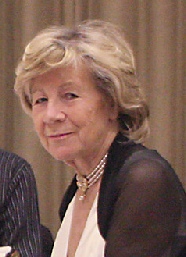 We were very upset to learn that one of our members, Ruth Chivers, passed away suddenly this week after being take ill during the night. Our deepest sympathies go to Ruth's family and her dancing partner, John Coupland.
Beryl Dodge March 27th 2016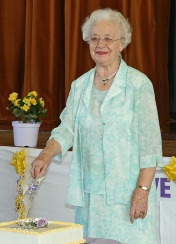 We were saddened to hear of the death last month of Beryl Dodge, aged 90, who had been ill for some time.
Beryl and her late husband Bill joined Cove SDC in 1959 an became Leaders of the Club in 1972 for many years before illness intervened and they also served on the Committee, Bill as Chairman and Beryl as Secretary.
Our deepest sympathy goes out to all her family.
Christmas Party 18th December 2015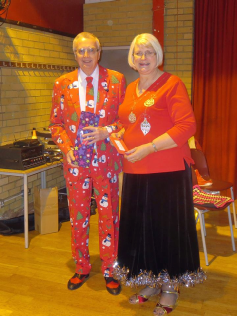 Excellent attendance of 41 were present for our Christmas Party which was a lively affair. The programme consisted of :
Selby Swing, Saunter Together (elimination), Mojito Mambo, Engagement Waltz, Balentine Bossa Nova, Star Ruby Rumba, Midnight Jive, Paul Jones (Mayfair QS, Tango Serida, Balmoral Blues), Tiffany Saunter, Rumba Beguine, Jasper Quickstep, Fragrance Foxtrot, La Chapeloise (prog), White City Waltz.
There was an excellent spread of food for the American Supper. We also had a crocks corner for those members recovering from operations and illness. It was great to see them back amongst us. The Leaders and Secretary were presented with gifts from the Club for their work during the year.
The Leaders were also presented with a glitter ball from two of the middlies to help them sparkle in the New Year.
The Club restarts after the Christmas/New Year break on the 15th January 2016.
Hampshire County Council
At the start of the new season we were awarded a generous grant from Hampshire County Council to help us to continue to flourish despite rising costs. Our grateful thanks go to our local County Councillor (for West Heath Ward) Mark Staplehurst for supporting this grant.
End of Season Party Dance 24

th

July 2015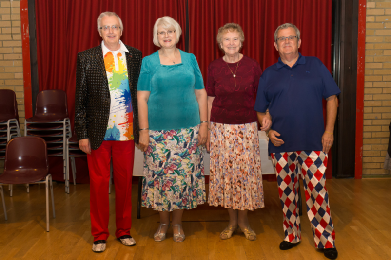 There was an excellent turn out for our end of season dance with a great atmosphere.
The progressive Invitation Swing led to complete chaos and much merriment.
Jacqui prepared strawberries and cream for everyone which went down well.
The club reopens fro the new season on the 4th September and 19:45.
Ray Collins (1934 - 2015)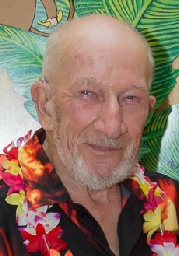 It is with great sadness that we have to announce the passing away of Ray Collins today 22/1/2015. Ray and his wife Sheila have been long time enthusiastic members of Cove Sequence Dance Club and he was the life and soul of the party. He will be greatly missed.
Our deepest sympathy goes out to his wife Sheila and the rest of his family.
SE Water's Community Fund
We have just been awarded a grant from South East Water's Community Fund of £200 to help us to continue to flourish despite rising costs.
PINK EVENING in Aid of Breast Cancer November 2014
Our Pink Evening was attended by 35 members and raised over £120 from the Raffle and donations for Breast Cancer.
Autumn Ball 2014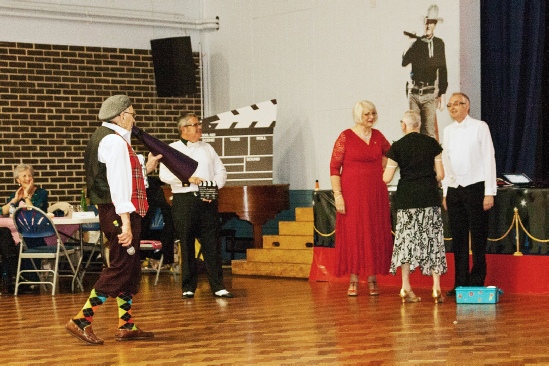 Our Autumn Ball had the theme Films and Musicals with appropriate music superbly played by David Smith. The dancing was led by Club Leaders Hilary & Nigel supported by their Deputies, Gerald & Joan and Tertiaries, Gordon & Shirley. Gerald & Gordon were responsible for much of the high jinks that took place.
We were especially delighted to welcome the retiring Old Time Dance Society Chairman Paul Harding and his wife Hazel who travelled up from Bath with a broken satnav. Paul & Hazel presented Hilary and Nigel with an Oscar for "Best Lead Role in the Production".
We were also pleased to welcome two ladies who had travelled down from Milton Keynes for the Sequence Dance Inventive Competition at the Lakeside Farnborough and saw our advert on our website.
The evening was great fun and appeared to be enjoyed by all attending. More photos taken by Mike can be found on our photo page. Our next main ball is in March 2015.
Shirley's 80

th

Birthday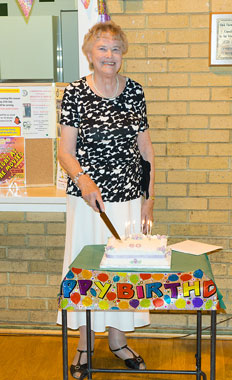 On Friday 11th July 2014, the Club celebrated our Secretary, Shirley's 80th Birthday. Shirley has been a member of the club for 24 years. A cake was made by Helen for the occasion, decorated with 8 candles; fire regulations prevented the full number being fitted.
The evening's dancing consisted of many of Shirley's old favourites such as the Fragrance Foxtrot, Kelly Quickstep, Trelawney Tango and the Bluebird Waltz along with some of the newer dances.
Here's hoping Shirley carries on dancing with us for many more years.
Barbara Cole
It is with great sadness that we announce the passing of Barbara Cole who has been a member of Cove SDC for 25 years. Her funeral was at Aldershot Crematorium on Monday 23rd September at 10 a.m. Our deepest sympathy goes to her partner Michael and her family.
Chris Healy
It is with great sadness that we have learnt of the death of Chris Heley who passed away recently. He and his wife Jeannie were long term members of the club who haven't been able to attend in recent months because of illness.
His funeral was on Tuesday 14th May at 12:45pm at Easthamstead Crematorium.
Our deepest sympathies go to his wife and family.
Sheila's 90

th

Birthday 7

th

April 2013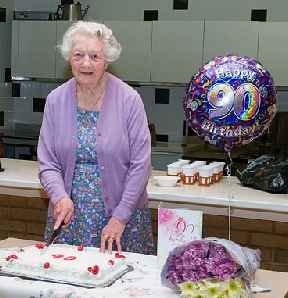 Last night we were delighted to wish a Happy 90th Birthday to Sheila Russell, one of the longest serving members of the club.
A large cake baked by Helen was enjoyed by all after the ceremonial cutting.
A bouquet of flowers was presented to her by Club Secretary Shirley.
The programme consisted of several of her favourite dances including the Fragrance Foxtrot and the Kelly Quickstep. She led off the Fragrance Foxtrot partnered by Shirley.
We all wish her many more birthdays.
Vi Palmer 1911-2013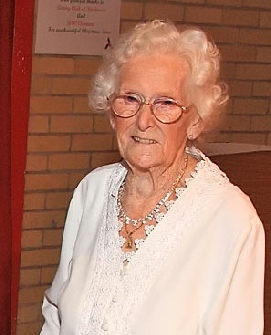 It is with great sadness that we report the passing away at the age of 102 of long serving Club member Vi Palmer who was an active member of our Club until suffering a fall. On her 100th Birthday she led off the Kelly Quickstep at the Club.
The funeral was at Aldershot Crematorium at 14:15 on 26th March.
Autumn Dance 14

th

October 2011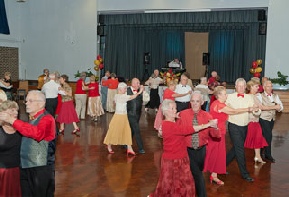 Cove SDC held another successful dance last night with some 65 dancers attending with over half being visitors. The colour theme for the evening was red and gold. Our musician for the evening was Larry Green who played some beautiful tunes to dance to. The MCs for the evening were Cove Leaders Trisha and Brian who were supported in leading off by Cove Deputies Hilary and Nigel and other Club Leaders present.
The dances were a mixture of old and new ranging from the Rosebud Rumba and Sharmar Saunter to Tango Solair and the Rose Lane Waltz. The Leaders' dances were the Crystal Blues and the Tayside Tango. The Progressive Dance was the Sindy Swing. A large raffle was held. An excellent spread of food was provided by Cove SDC members.
A vote of thanks was given to the Club by Sylvian Elderton the Wey Valley SDA President.
Cove SDC's next event is a Cheese and Wine party on the 18th November 2011.
-------------------------------------------------------------------------------------------------------------------------
John Stockwell 1930-2011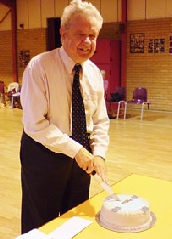 We were deeply saddened to learn that John Stockwell passed away on the 5th September in hospital. John and his wife Joan have been members of Cove SDC for a number of years strongly supporting the Club. John celebrated his 80th Birthday at the Club last October.
Our deepest sympathy goes out to his wife Joan and his family at this sad time.
The funeral took place on Friday 16th September with a memorial service at 11:30am at the Holy Trinity Church, Hawley.
Joan's 90th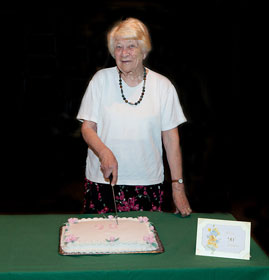 On the 6th May Club night we celebrated one of our members, Joan Stockwell, 90th birthday. Helen made a celebratory Birthday Cake which was ceremoniously cut by Joan. We wish her many more years of dancing.
Spring Ball March 2011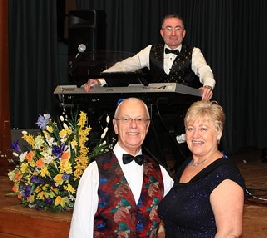 Over 60 people attended our Spring Ball with Larry Green ensuring the evening was a great success. We are grateful for the support received at Brian and Tricia's first ball as Leaders at Cove.
Our next Ball is on October 14th with Larry Green. We hope you will all be able to support it.
100 and Still Dancing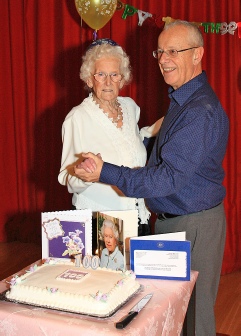 Our oldest and one of our most loyal members, Mrs Violet (Vi) Palmer, celebrated her 100th Birthday at the Club on Friday 28th January 2011. She attended the Club accompanied by members of her family. Over 45 members and visitors attended the celebrations. As the first dance was one of her favourites, the Kelly Quickstep, she led it off with Brian. Another of her favourites, the Alpine Stroll, was included in the evening's programme of dances.
A special cake was made by Helen for her and was surrounded by her cards from the Queen, the Club and the Government (Ian Duncan Smith). Vi was presented with a beautiful bunch of assorted roses by Tricia on behalf of the Club. The evening was crowned by Vi 's luck in the raffle continuing as she won yet again.
Vi is a member of three sequence dance clubs including Wey Valley SDA Clubs - Cove and Phoenix and visits them every week transport and weather permitting and still manages to grace the floor for some of the dances although not the jives. It is understood the other Clubs she belongs to also had parties for her during the week.
Vi was born in Islington in 1911 and has memories of World War I including seeing a Zeppelin and having to take shelter in a crypt near the school during air raids on London. She undertook war work in World War II and subsequently worked at Beechams. Following retirement she moved with her husband to Farnborough in 1970. However she has been a widow for many years. She does most of her own housework, including all the cooking. Her house and garden are kept immaculate.
Apart from dancing. her main leisure activity is knitting. She produces beautiful knitted toys and clothing with the proceeds going to charity. Over the years she has raised thousands of pounds for Frimley Park Hospital and the Phyllis Tuckwell Hospice. Just before Christmas 2010 she ran a stall of her handiwork at the hospital which raised £100 to the delight and admiration of the staff. All her friends hope to see her dancing for many years to come.
See Photo Page for more photos.

Some of the Members of Cove SDC Toasting Vi's Health