Cove Sequence Dance Club is a small but growing friendly club which meets every Friday evening at the Samual Cody Community Centre (formerly Oak Farm Community Centre) Ballantyne Road, Cove, Farnborough GU14 8SN from September to May. In the summer it also meets on the 2nd and 4th Fridays in June and July. The Club meets from 19:45 - 22:15. The hall has been re-floored making dancing a pleasure.
The Club has been in existence for over 67 years and currently has around 40 members. Dancers of all levels including beginners are very welcome. Please telephone the Secretary for details (tel. 01252-653536).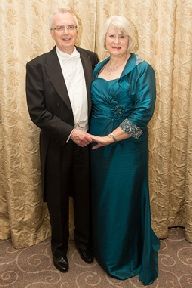 The Leaders of Cove SDC are Hilary & Nigel (photo left) who are both qualified teachers (AUKA) and carry UKA public and professional liability insurance. They are supported by Deputies Shirley & Gordon, Tertiaries Jacqui & Michael and Quaternaries Ivy & Bill (from the Darkside). Nigel is also the Chairman of the Old Time Dance Society.
The weekly programme consists of a variety of popular social, classical, latin and modern sequence dances including the old favourites with the emphasis on having fun. Hilary and Nigel provide instruction on the few new winning inventive dances that are proving popular along with recaps on old favourites. The last old dance recapped was Sizzler's Samba.
In February we are teaching the Charnwood Cha Cha Cha.
The Current Club officers are:
Michael - Chairman, Shirley - Secretary, Mike - Treasurer
Our last live music event, our Autumn Dance with David Last, was a great success, thank you for all your support.
We were very upset to hear today that one of members, Joyce Palmer, passed away last night (Monday/Tuesday) in Frimley Park Hospital. Joyce along with her husband John have been strong supporters of Cove SDC. For many years they ran a very popular club "Bordon & Lindford SDC". We will miss her cheery personality at the club which she maintained although being ill for some time. Despite illness she still came to Cove up until Christmas last year. Our deepest sympathies go to John, her daughter and family.
The funeral service is on the 6th March at 12oc at St Georges Church Badshot Lea. No flowers please.
Our next Club Meeting is on Friday 16th February at 19:45. The programme as always is subject to change depending on the state of the Brazilian rain forest. The programme might be: Mexican Swing, Rumba Loui Ann, Charnwood Cha Cha Cha, Crystal Blues, Rock Crazy Jive, Kelly Quickstep, Rumba Mounda, Jasper Quickstep, Honey Saunter, Tango Amarone and the Bluebird Waltz.
A large percentage of a membership have been struck down with colds, flu, holidays or chest infections. Hopefully you are recovering and we look forward to welcoming you back.