Cove Sequence Dance Club is a small but growing friendly club with around 45 members which meets every Friday evening at the Samual Cody Community Centre (formerly Oak Farm Community Centre) Ballantyne Road, Cove, Farnborough GU14 8SN from September to May. In the summer it also meets on the 2nd and 4th Fridays in June and July. The Club meets from 19:45 - 22:15. The hall has been re-floored making dancing a pleasure.
The Club has been in existence for over 67 years and currently has around 40 members. Dancers of all levels including beginners are very welcome. Please telephone the Secretary for details (tel. 01252-653536).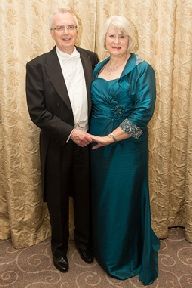 The Leaders of Cove SDC are Hilary & Nigel (photo left) who are both qualified teachers (AUKA). They are supported by Deputies Shirley & Gordon, Tertiaries Jacqui & Michael and Quaternaries Ivy & Bill.
The weekly programme consists of a variety of popular social, classical, latin and modern sequence dances including the old favourites with the emphasis on having fun. Hilary and Nigel provide instruction on the few new winning inventive dances that are proving popular along with recaps on old favourites. The last old dances recapped were the Edwardian Gavotte and the Rumba Beguine.
The Current Club officers are:
Michael - Chairman, Shirley - Secretary, Mike - Treasurer
PLEASE NOTE: The new season starts on Friday 2nd September starting at 19:45 until 22:15. Looking forward to seeing you all again for an evening of fun and dancing. Everyone is welcome. The provisional programme is:
Mexican Swing, Honey Saunter, Malbec Rumba (teach), Tayside Tango, Westlee Waltz, Midnight Jive, San Jose Cha Cha Cha, Venetian Foxtrot, Mojito Mambo, Hoabie Quickstep and Waltz Catherine.
Note we may be in our usual hall or the main hall depending on how the redecorating has gone. We will post the name of the hall when we have been notified.

Contents of this web site and all original works are copyright ©2010-2015 Cove Sequence Dance Club - All rights reserved.The material on this site may not be reproduced, distributed, transmitted or otherwise used, except with the prior written permission of the owner.
Supported by South East Water & Hampshire County Council